Do you find it difficult to produce an Instagram bio? Many of us encounter this issue. In fact, your account's followers are 150 characters in, so a poorly composed bio will certainly impact your ranking.
It's the first thing people notice when they navigate to your social-media profile. It's also the place where you introduce your company to buyers, connect with clients you will develop personal relationships with, and hopefully drive a significant amount of traffic to your business.
Don't stress; we are here to assist you design the perfect Instagram bio for your company.
Following are some important points that we explore how to:
Describe what form of business are you in?
Create an outstanding first impression by writing a creative bio on Instagram.
Give customers a reason to follow, like, share – and convert!
What is the Instagram Bio Feature and Why Should You Use It?
Instagram is one of the most popular social media platforms today. With over 400 million monthly active users, it is a great place to get your business noticed.
Your Instagram bio is the box that includes a short bio about you, your company, your brand, or the purpose of your Instagram page. It's located below your profile username on Instagram.
The Instagram Bio feature allows you to add more information about yourself and your brand on your profile. It also helps people who are looking for you on Instagram to find your profile easier.
The Instagram Bio feature is also a great opportunity for brands and influencers to get their message across in an authentic way, while also allowing their followers to connect with them in a meaningful way.
You should use the Instagram Bio feature if you want to stand out and be memorable on the platform. You can also add a link in your bio that leads people directly to where they can buy something from you or another website like Amazon etc.
Anyone is free to change or revise their Instagram Bio. Bios are not fixed and can be changed whenever you feel necessary.
It goes without saying: to get the best Instagram profile possible, you are going to have to maintain your bio short and sweet in order to stay within the character limit of your bio.
What makes a good bio for Instagram
The most engaging Instagram bios typically have a well-crafted description of themselves. Things to include: the name(s) of your company or work, your claim to fame, what you like, and what makes you stand out.
In order to be successful on Instagram, it's necessary to have a good bio that gives your audience something interesting about yourself or your brand while still being short enough to fit into the space provided by Instagram. A good bio should also be able to inspire curiosity in potential clients or customers who might not know anything about you yet or want to learn
Six Tips While Writing Instagram Bio
You have only a few seconds to leave an extraordinarily positive impression on a person who finds your profile worth following.
So how can you convince people that your profile is worth following? Review these six steps from our guide regarding how to craft an Instagram bio!
Optimise your name for search queries.
Add your skills and audience you want to target.
Include important and relevant keywords.
Optimise your website link.
Share your contact information.
Get creative and show your personality.
How to Make Instagram Bio
Your Instagram biography is where you can introduce yourself to people. It is where you can announce who you are, what your account is about, and why a person should follow you.
Think of it as a somewhat short cover letter. Now, let's figure out how to make your Instagram biography an immensely pleasing success.
1) Optimise your Instagram Name
The first thing to keep in mind when developing a good Instagram bio is ensuring your Name Field contains your name or a searchable keyword.
For example, if you are in the medical field, you may want to include your entire given name along with your employer role. Therefore, when people search for you on Instagram, they will be able to easily find your account.
Have a look at how Nedra Glover Tawwab uses the name field to include her occupation for extra clarity.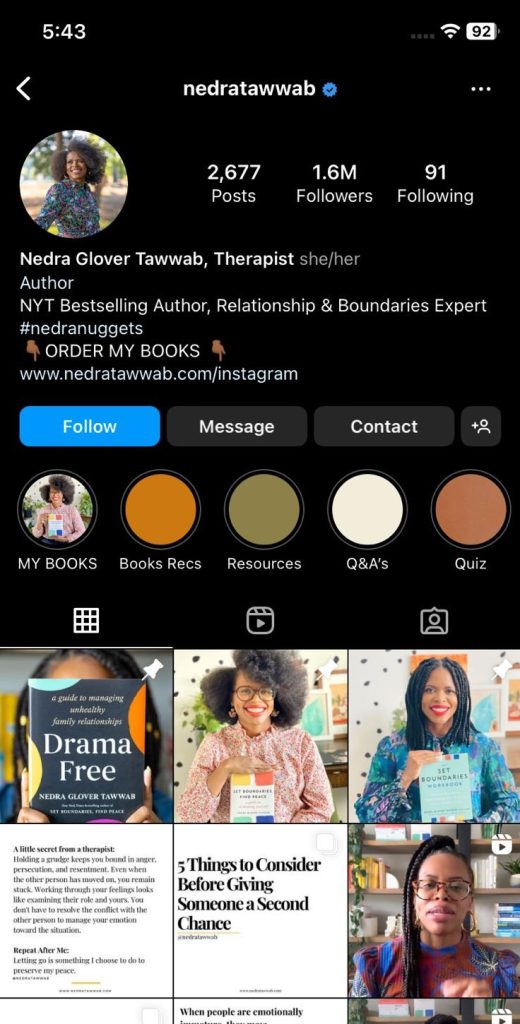 Instagram also considers the name and username info when carrying out searches, so it's a great idea to ensure they're optimised.
It's important to find keywords that are closely related to your business using these in order to increase the amount of traffic you get. Do you offer a specific service? Are you known for something in particular?
Have a look how @martin uses the name field to include her name and a keyword : IOS Developer.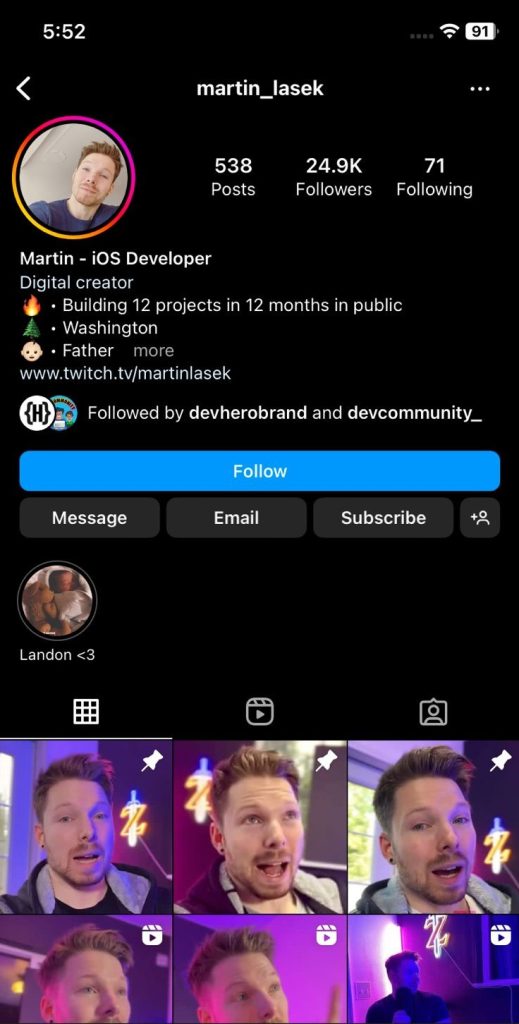 Now, whenever someone searches "IOS Developer" on Instagram, his account will be among one of the first they see. And his simple and to-the-point Instagram bio let's visitors know what his posts will be about.
2) Highlight your Skills & Target Audience
Your company's Instagram account will use a well-written Instagram bio to explain exactly what it is about and its target audience.
@lightit.global checks every item on the list with their instagram Bio.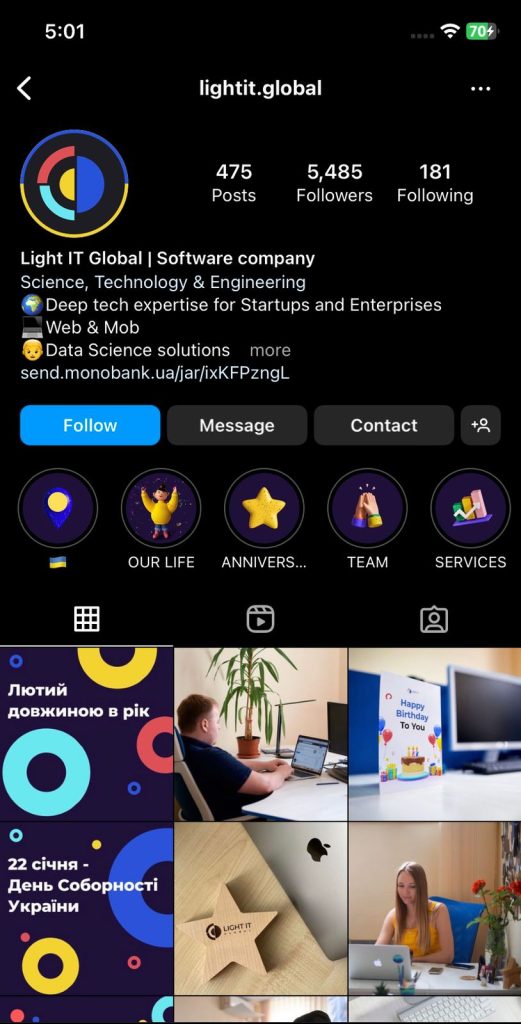 They include "science and Technology " at the beginning of their bio, which means that they are for developers. Right away, new visitors will know exactly what the brand sells and if their products fit their interests.
If you are a self-employed individual or creator, you can also use your Instagram bio to establish yourself within your industry. Think about your skills or experiences that could be of interest to potential followers.
@candaceabroad is a travel blogger who uses her bio to highlight that she's an American expat living in London: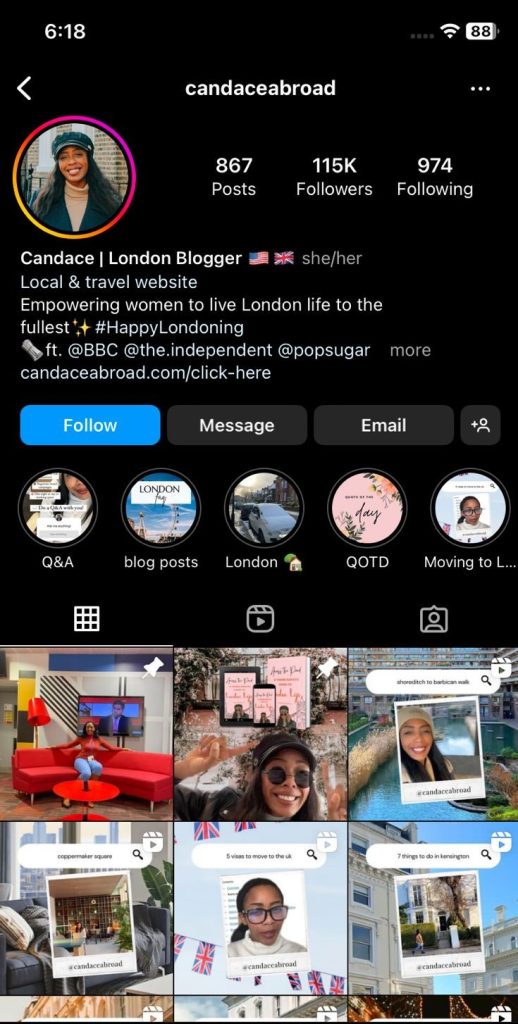 Not only will this tidbit serve as an introduction to her profile, but it lets people know she'll be exploring London and creating guides from the perspective of someone who moved abroad.
3) Use Relevant Keywords
Using targeted keywords – also known as Instagram SEO in your bio won't improve your searchability on Instagram (except, as we mentioned above, for your name and username) but it can help give your account more focus and connect you with like-minded followers.
It can help deliver your objective with ease, which is essential when you have a tiny number of characters available.
When deciding what keywords to put on your Instagram bio, think about your core values and interests, and those of your audience.
@The Chalkboard Mag does this by using keywords like "wellness", "nutrition", "self-care", and "design":
For Instagram marketing to be successful, consider making use of a fictitious character for your following rather than a persona or a real person.
What are their pain points or interests? What keywords will resonate with them?
Relevant keywords will improve your audience's understanding of who you are, what you have to offer, and whether you have something useful to offer them.
4) Drive Traffic Through Link in Instagram Bio Tool
Your Instagram bio link is easy to find and often clickable, making it one of the most influential traffic sources on your profile. Putting a link in your bio can lead to more engaged customers and increased sales for your business.
To add a link to your Instagram bio, follow these steps:
Go to your profile and select the "Edit Profile" button
Add the URL in the "Website" field
Save the changes
Test the website link in your profile
5) Add Location To Your Instagram Bio
You can add a location to your Instagram bio if you are listed as a Public Business or Figure. If you are, follow these easy steps:
Go to your profile and select the "Edit Profile" button
Under "Public Business Information," select "Contact Options"
Choose "Business Address" and fill in the fields
Save the changes
Test the address in your bio to ensure it links to the right place
6) Add Contact Information To Your Instagram Bio
You can add your contact details to your Instagram profile, which includes your email address, phone number, and physical location. The best part? It doesn't take up any character space in your bio!
Skincare company @Eluo Beauty have contact information available for new visitors and their followers:
Having contact information in your Instagram bio makes it simple for other people to contact or visit you. It may also act as a visual prompt to engage someone if they have a question or inquiry.
There are alot of methods you can put your creativity on your instagram bio but we can discuss three best ways here.
1) Use Emojis
One effective way to space out the text in your Instagram bio is by incorporating emojis. You can use them to break up long blocks of text in your bio.
2) Brand Hashtag
The easiest way to get your followers into the habit of using your branded hashtags is to share them in your social media bio.
If you're promoting an Instagram contest or campaign to increase your social media following, including a button that links to your branded hashtag in your Instagram biography may help drive engagement.
3) Add Line Breaks
Including line breaks into your Instagram bio is a great way to make the information more bite-sized and consumable.
The easiest way to add a line break to your Instagram bio is to download it on the web version of the application. Once you have completed the task, you will have a bios that is easier to view.
Instagram Bio Checklist
A good Instagram bio is the one which speaks to the target audience and encourages them to follow your Instagram account. Here, you'll see a recap of what you ought to bear in mind when creating an Instagram bio.
Show your personality.
Explain who you are and what you do.
Link to your website or blog.
Target your niche audience with specific keywords.
Provide additional ways for your followers to get in touch.
No matter what perspective you choose for your Instagram bio, taking time and care to make yours well worth the investment. Then ask a few close friends and family about what they think when they visit your profile and examine their feedback in order to make any adjustments.
As you continue to grow and expand your business, mention that you may set aside some time every few months to review your biography and ensure it is still the narrative you want to tell.
100+ of the Best Instagram Bio Ideas You Can Copy & Paste
Now that you have an idea of what goes into creating the best bio for Instagram, it's time to write your own!
Read Instagram bio examples below to discover ways you can change your biography. Copy and paste them, or you can use the suggestions as inspiration to create your own.
Instagram Bio Quotes
Creativity solves everything.
In a world where you can have everything. Be a giver first.
Simplicity is the key to happiness.
To love oneself is the beginning of a life-long romance.
Wanting to be someone else is a waste of who you are.
In a world of darkness look up at the stars.
All I do is win, win, win. No matter what.
Together we could be unstoppable.
I would rather die of passion than of boredom.
Whether you think you can or you think you can't, you're right.
Cool Instagram Bios
Welcome to my world
Success is in my veins
The best things come from living outside of your comfort zone
I'm a cupcake in search for her stud muffin
What should I put here?
In a world where you can be anyone, be yourself
Here's my story for the history books
No, this isn't a dream. This is my reality.
Yup, I'm just another Instagram influencer
Scratch here ▒▒▒▒▒▒▒▒▒▒ to unveil my secret bio.
Instagram Bio Ideas for Girls
Me: Happy girls are the prettiest. Also me: I'd like to buy 15 pounds of makeup, please.
Leaving a bit of sparkle everywhere I go.
Who runs the world? ME.
I shine from within so no one can dim my light.
Turned my dreams into my vision and my vision into my reality.
Smart. Strong. Silly. Straight up class act.
I'm a woman with ambition and a heart of gold.
My standards are high… just like my heels.
I believe in making the impossible possible because there's no fun in giving up.
I'm not perfect, but stories are always better with a touch of imperfection.
Happiness never goes out of style.
Instagram Bio Ideas for Boys
I might not be where I want to be yet but I get closer every day.
Born to express, not impress.
I'd rather be hated for who I am than loved for who I am not
Be all in or get out. There is no in-between.
Kilometres are shorter than miles. To save gas I'll take my next trip in kilometres.
I'm out here hustlin' to claim what's mine.
I got here by being me, so I'll continue being me.
Risk taker. Adventurer. Globetrotter. Living my dreams.
I don't care what people think of me. This is me in the rawest form.
You couldn't handle me even if I came with instructions.
Best Instagram Bio to Get Followers
Follow me to get a behind the scenes look at my life.
Don't know what to do? You can start by hitting that follow button.
Follow Me To Greatness.
Follow me and I'll follow back.
My story will inspire you, so be sure to hit that follow button.
Wanna know my story? Press that follow button.
Follow me then follow the link below!
Follow my story.
Click the follow button to be part of my journey.
I'm on my journey. Join me by following along.
Pls follow us on Instagram.
Thank you, come again.
Follow along to witness history in the making.
Great Instagram Bios
I'm sweet like honey 🍯
Please cancel my subscription to your issues.
🍂🍃Falling for you 🍂🍃
🌟Sending my selfies to NASA because I'm a star 🌟
☕Stressed, blessed, and coffee obsessed ☕
Don't study me. You won't graduate 🎓
Having the time of my life ⏰🎉
Status Update: Currently hungry 🍔🍟🌭🌮🥗🍪
Looking at the world through 🌹coloured glasses
Entrepreneur Instagram Bios
Whatever you do, just make a difference.
Love what you do.
If you don't build your dream, someone will hire you to build theirs.
Whatever you do, just make a difference.
If opportunity doesn't knock, build a door.
What is the point of life without passion?
A goal is a dream with a deadline.
The road to success is always under construction.
My goal is to not only live, but to grow.
The happiest people make the best out of anything.
Not stopping until I achieve my dreams.
Aesthetic Instagram Bios
Stay busy, they do not deserve you.
Look in the mirror and see your competitor.
Sometimes, the fear of losing someone is making us losing them
I am the hero of this story, do not save me.
You have ruined the melody of my favourite song.
Simple hug and cure big issues of life.
I am getting a chance to tell my feelings to you.
Sorry for having the same boring face every day.
Kind words cost nothing.
Firstly, try to learn to make yourself happy.
Simple Bio for Instagram
Goal: bigger smile
Anything but predictable
I'm the exception
Rollin' with the homies
Livin' a little
Glitter is the only option
Simple but significant
Doing better
I see beauty in everything
Life is beautiful
Pretty & Profitable
Business Bio for Instagram
Click the link below to shop our Instagram
Great selection of (type of products) merch
I believe in helping people
Check out our best sellers below
👇 FLASH SALE THIS WEEKEND ONLY – 50% 👇
Putting customers first since 2013
Official home of (brand name) on Instagram
Contact us: name@email.com
Share your photos with us using #(brand name)
🌎 Free international shipping
Swag Bio for Instagram
My Instagram is proof that I'm always creating a better version of myself
I don't wipe tears, I wipe the people who created them
Even if you had instructions, you still couldn't handle me
I'll remember and recover but that doesn't mean I'll forgive and forget
Anything but predictable
Be young. Be dope. Run the show.
It's hard to find someone who's smart, funny, adorable and a total badass. My only advice for you is, don't forget to follow me
I'd rather make mistakes than fake perfection
Too glam to give a damn
I'm like coffee: dark, bitter and too hot for you
In a world of average, I'm savage
Best Instagram Bios with Emojis
😋🍔🍕🍲🍴(Add emojis of your favourite things)
🤳👑(Selfie Queen)
📍(the city you live in or are visiting)
🕺Enjoying life's party
🐶Parent to (dog's name)
👇Check out the latest deals
🏆Awarded most likely to succeed in 8th grade
💫(Zodiac sign)
🛩 (Put where you're travelling to next)
💋Welcome, I'm glad you're here.
Instagram Bio for Fashion
Women can look beautiful in any outfit but the right outfit can make women become powerful
I dress as if I'm about to see my arch nemesis
"I need new clothes." – Me, every damn day
My clothes might not change the world, but I sure will
I may be a fashionista but I'm not all about labels
My ex doesn't go with my outfit
I'll make you stop and stare
My clothes highlight my colourful life
Shopping is my therapy – hey, it's cheaper 😉
Money can't be the root of evil since shopping brings people so much happiness
Fitness Bio for Instagram
Today I don't need your excuses. Make it happen.
Train insane or remain the same
Do something today that your future self will thank you for
When you feel like giving up, keep going
Hustle for more muscle
Strength comes from doing things you thought you couldn't
You are what you do, not what you say you'll do
Workout enthusiast and personal trainer
The worst workout is the one you didn't bother to do
Helping you build healthier habits
Travel Bio for Instagram
I like taking the scenic route
⚫wanderlust ⚫a strong desire to travel
I might not know who I am but I know where I want to be. Right here in paradise.
Fill your life with experiences so you always have a great story to tell
My best stories are found within the pages of my passport
I haven't been there yet but it's on my list
Take advantage of every opportunity you get because some things only happen once in a lifetime
Join me on my next adventure!
All I need is Vitamin Sea 🌊
Travel is the only thing you buy that makes you richer
Instagram Bio Inspiration
I'm ready – let's do this
Capture every moment
When the world is dark look up to the stars 🌟🌟🌟🌟🌟🌟
Be a flamingo in the flock of pigeons
I'm the rainbow 🌈 on the rainy day 🌧️
Everyday I create a life I love
Sprinkling a bit of magic
Making mistakes is better than faking perfection
Trying to watch more sunsets than Netflix
Sharing my happy thoughts