In today's digital landscape, the significance of SEO cannot be overstated. It's a critical component for businesses looking to enhance their online presence and gain recognition from search engines. Two prominent on-page SEO tools, Surfer SEO and Page Optimizer Pro, offer a wealth of features to improve website optimization.
Choosing between them can be challenging due to their robust offerings. Surfer SEO is known for its comprehensive content marketing toolkit and advanced features like SERP analysis. In contrast, Page Optimizer Pro provides a cost-effective solution with unlimited optimizations and reports, catering to users who don't require Surfer SEO's advanced capabilities.
To aid in your decision-making, we've conducted an in-depth comparison of Surfer SEO vs. Page Optimizer Pro, considering features, usability, and pricing. Our goal is to ensure you make an informed choice that aligns with your SEO needs.
Whether you're a seasoned SEO professional or just embarking on your digital marketing journey, our detailed article provides a comprehensive overview of these two tools. We aim to ensure your satisfaction by equipping you with the knowledge needed to select the right SEO companion for your business's success.
Surfer SEO vs. PageOptimizer Pro: Key Differences
The following are the key differences between Surfer SEO and Page Optimizer Pro.
Surfer SEO offers a comprehensive content marketing toolkit but at a higher cost, with advanced features like SERP analysis. In contrast, PageOptimizer Pro provides cost-effective on-page optimization with unlimited optimizations and reports, ideal for those not needing Surfer SEO's advanced capabilities.
Surfer SEO has some features which are not available in Page Optimizer Pro such as keyword research and competitor analysis. The major difference between Surfer SEO and Page Optimizer Pro is that Surfer SEO generates content for your web page while Page Optimizer Pro does not.
Surfer SEO is a digital marketing tool that uses the power of search engine optimization to help businesses rank higher in search results. Page Optimizer Pro is a digital marketing software that helps businesses create, manage, and optimize their web pages.
This is a really easy process with Surfer SEO, whereas on Page Optimizer Pro you need to go through a complex process to analyze and optimize your content.
What is Surfer SEO and How Does it Actually Work?
Surfer SEO is an on-page optimization tool that helps you to find and analyze the keywords that are relevant to your website but it does not have a feature for off-page SEO.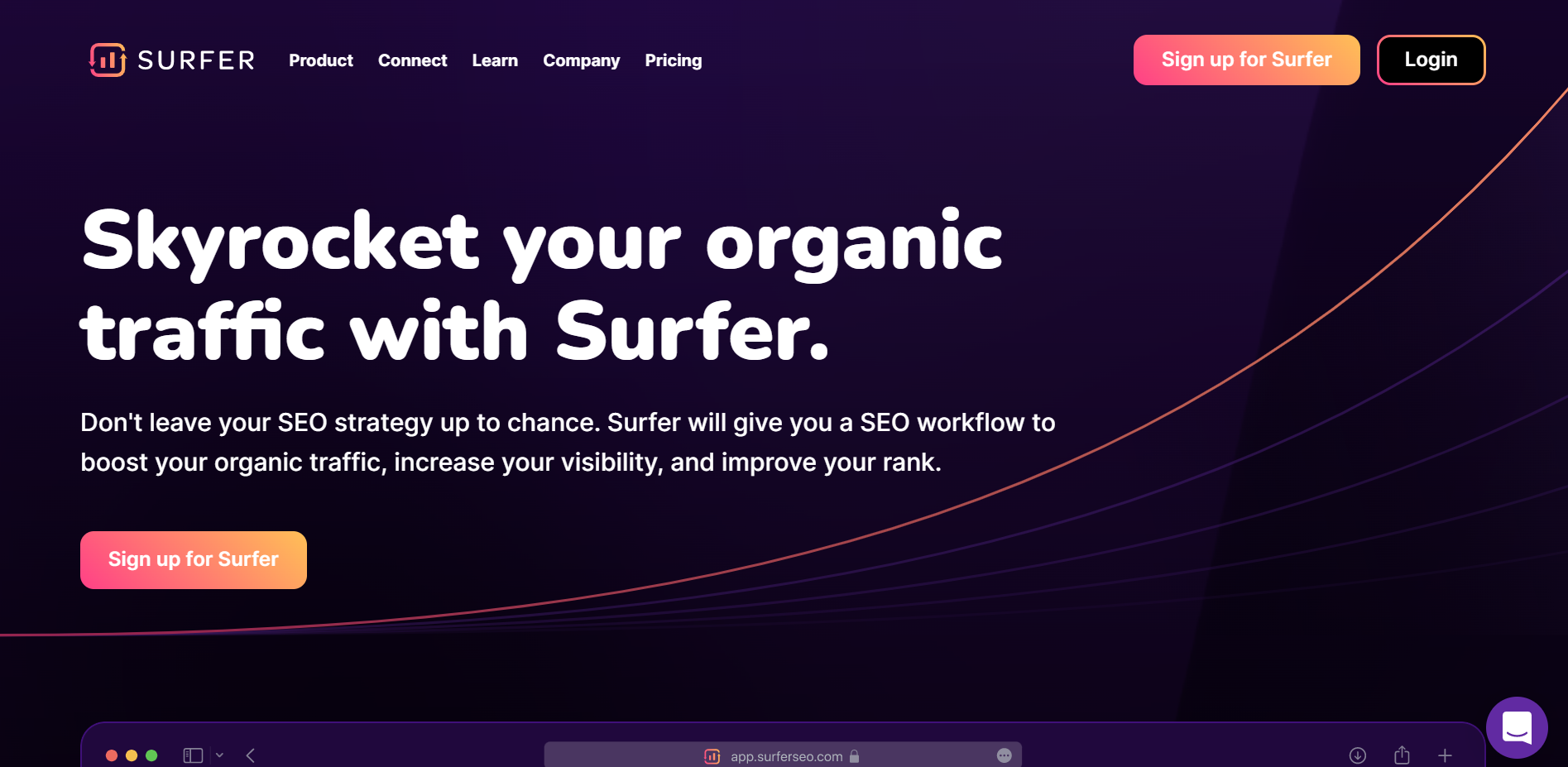 The tool also provides you with information on your competitors, their SEO strategies, and the keywords they use.
Surfer SEO is a web-based application that monitors the internet in real-time and provides users with the latest and most relevant information on their chosen topics.
It also allows users to create alerts for keywords or phrases, which will be followed by an email notification when something new has been found. Users can also customize their alerts to suit their needs by choosing how often they want to receive notifications.
The Surfer SEO app is available on both desktop and mobile devices, which means that users can access it wherever they are and whenever they need to. It helps you find the best keywords for your website and, also helps you to find the best keywords for your competitors.
It crawls through your site and analyzes the content for keywords that are relevant to your topic and industry.
The surfer SEO keyword research tool then suggests a list of keywords with their corresponding search volume. You can then use this data to optimize your site's SEO strategy.
It's a great way to find out which keywords are relevant to your business, as well as how much traffic each of them brings in from Google, Yahoo, Bing and YouTube combined.
Keyword Research Tool
Keyword research is the process of discovering what people are typing in to find information on a topic. It is a very important part of SEO because it helps you understand what people are looking for and how they use search engines.
If you're looking for a tool to get your keywords ideas, there are some great features in Surfer that can do it for you.
Simply enter in the keyword that you want to rank for and you'll be given a list of related terms as well as the amount of traffic your input yields.
You can find keywords in any country. There's a shortcut to the Content SEARCH ENGINE RANKER or the CONTENT EDITOR which can help you more precisely organize your keyword content.
If you don't have the funds for expensive programs like SEMrush and Ahrefs, a basic export to a spreadsheet might be helpful.
Search Types
It supports two different types of search:
Keyword search, which allows you to input keywords or phrases and get a list of related keywords.
Keyword suggestion, which recommends related keywords based on your input.
Analysis Of Keyword
It also provides an analysis of the competitiveness of each keyword with the following information:
Search volume (how many people are searching for this keyword).
Competition (how hard it will be to rank for this keyword).
Difficulty (how hard it will be for you to rank for this keyword).
Compatibility
Jasper AI is one of the most highly rated, most powerful copywriting tools available and Surfer is compatible with it. Jasper's 'Boss Mode Plan' helps you optimize your long-form writing content.
It's also compatible with Google Docs, enabling you to work closely with your team to polish your material. You could edit content inside WordPress if you have a site powered by WordPress. There was no need to cut and paste anything.
Language Tools
The languages that Surfer supports are in this order:
This fantastic keyword research tool supports 60+ languages.
Editor of Content: You can also access unique paragraphs in English, Swedish, Spanish, Dutch, Polish and Danish. Headlines are available in all languages.
NLP Analysis: Surfer NLP only supports the four following languages: English, Dutch, Danish and Polish.
Content Optimization in Surfer SEO
Surfer's content editor tool was created to generate content from human writers.
Another one of Surfer's functions is as a SERP analyzer. It has the ability to help you understand how your content is being ranked in the search engine results pages (SERPs).
A correlational tool analyzes Google's top pages in order to highlight variables that yield high ranking. It provides metrics and data such as the top content types, content depths, media formats, and most-clicked topics which is useful for writing.
You can use the tool to research your competitors and see how they stack up against you across various metrics. The list consists of 50 competitors and it includes details on on-page SEO.
What is Page Optimizer Pro And How Does it Actually Work?
Page Optimizer Pro is a WordPress plugin that helps you analyze the performance of your website. It also helps you identify and fix the problems in your site.
It is a powerful plugin that not only identifies the problems with your site, but also provides solutions to them. Page Optimizer Pro also has a built-in SEO module for analyzing keywords and optimizing content for search engines.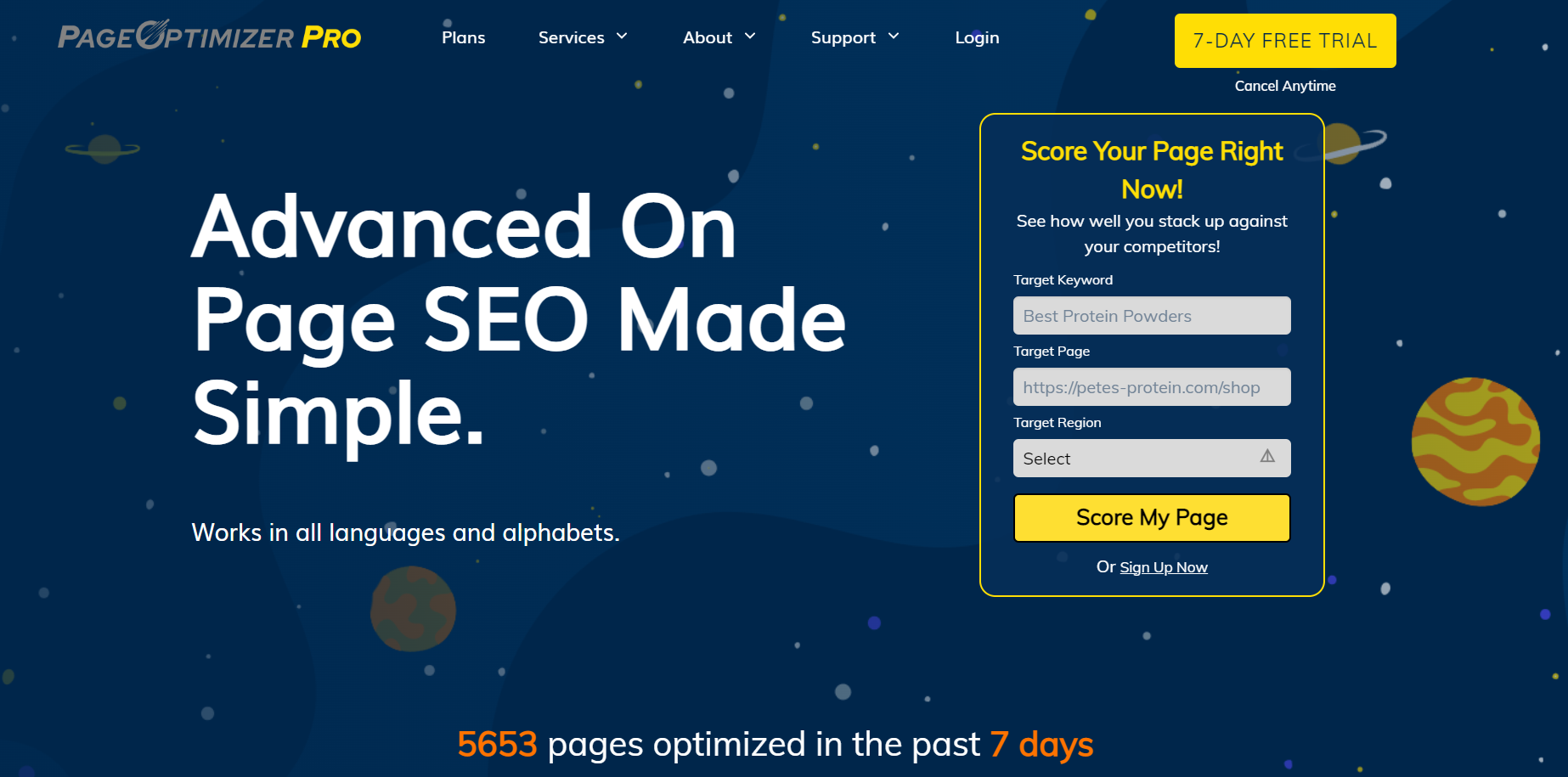 Free keyword research tool in Page Optimizer Pro is a very useful and efficient tool to find the most relevant keywords for your content. It is a free tool that can be used by any user to find keywords.
The keyword research tool provides a list of keywords related to your topic. The list includes the total number of searches, monthly search volume and competition level for each keyword. The more searches there are for a given keyword, the higher its monthly search volume will be and the higher its competition level will be.
Page Optimizer Pro is an all-inclusive, one-stop-shop for optimizing your page's SEO.
It has a variety of tools that allow you to do everything from analyzing your pages and discovering SEO issues, to making changes on the fly, to tracking the success of your efforts.
Page Optimizer Pro Features
Page Optimizer Pro is an on page SEO tool. It also offers a number of features that make it easy to use, including:
A user interface that is easy for beginners and experts alike.
A dashboard with all the information you need in one place.
An extensive library of articles with helpful tips and insights from industry professionals.
Extension For Chrome
Page Optimizer Pro has a Chrome plugin for easy website optimization. You can do it all from your Chrome browser. Reports can automatically be generated using data collected from a competitor's website and give you advice on how to beat them. You can subscribe online to Page Optimizer Pro and get started right away by installing it in the Chrome Web Store.
Easy Campaign Management
Campaign management is a tool that helps you manage your marketing campaigns in one place. It provides you with a consolidated view of all your campaigns and offers detailed insights into the performance of your content.
Campaign management in Page Optimizer Pro is used to create, manage and optimize all marketing campaigns with ease. You can do it all from one place without getting overwhelmed by the sheer number of tasks.
The White Label Report by Page Optimizer Pro contains important information on how to rank your page higher than the competition. Follow these procedures to get your report:
When you click on the 'New Project' button, you will be taken to a page that asks for your homepage's URL. After this, you will then be able to enter a project name and click 'Next'.
In order to rank, optimize or check a page, enter the name of the page that you want to examine, and select the language. We will create a report full of content optimization suggestions and other related keywords.
The next step is to provide the URL of a page you want to rank. Simply copy and paste the precise URL of the page into the area provided as it won't be difficult if you haven't yet created this page. A template will be provided by Page Optimization Pro. Other items may be checked or unchecked depending on your preferences.
EAT Evaluation
This tool helps you to improve the qualities of your web pages, in this case its expertise, authority and trustworthiness. Google ranks pages using a variety of factors, one of which is EAT, which is only available for their Agency Plan. To analyze your competition's EAT signal, copy their URL and paste it into the EAT Analysis. You will be able to see what you are lacking on your website by following this method.
Content Optimization in Page Optimizer Pro
Page Optimizer Pro includes a powerful SEO algorithm, and content optimization is one of the app's most powerful functionalities.
Page Optimizer is a Google Chrome extension that helps you improve your website's page speed.
When you sign into the main interface, you'd have to create a project. To begin optimization on your chosen page, you'd have to select a competitor and Page Optimizer Pro offers the options of manually selecting ten opponents or allowing the tool to choose for. You can only enter a maximum of 10 competitors.
While it might seem more stressful than Surfer's option of choosing from a list of 50 competitors, with research done beforehand you'll ensure that the competitors you choose for your review are solid. Page Optimizer Pro generates reports based on keyword usage, word counts, site structure and "how to improve your site".
Pros & Cons Of Surfer SEO
Surfer SEO and page optimizer pro are two different SEO platforms that have their own pros and cons.
Pros Of Surfer SEO
Surfer SEO is an AI-based tool that can automatically generate keywords and content for any website. It has many advantages, but it also has some disadvantages.
The pros of Surfer SEO are that it is very easy to use and the cons are that it is not as powerful as other tools.
Surfer SEO is a new SEO tool that makes it easy for webmasters to optimize their sites for search engines, social media and mobile devices.
The main pro of Surfer SEO is that it is a very easy to use, and it has an intuitive interface. It doesn't require any programming skills or knowledge of HTML, CSS, or JavaScript. It also offers a lot of features for the price point. For example, it includes keyword research and competitive analysis tools.
Cons Of Surfer SEO
The cons are that the software is not as powerful as some other tools on the market.
Surfer SEO is a bit expensive compared to Page Optimizer Pro.
Another con is that you can't customize your site map with this software as you can with some other programs like Screaming Frog or Majestic SEO.
Learning Surfer SEO can be hard and it may take time to understand the tool completely.
Pros Of Page Optimizer Pro
It can be used in conjunction with other SEO tools like Ahrefs or SEMrush and it will provide you with a lot of helpful insights into how well your site ranks on Google.
Page Optimizer Pro is a powerful and efficient tool for making sure that your content is optimized for Google. It is the best option if you want to make sure that your content is search engine friendly and it will help you to ensure that your page ranks high on Google.
Page Optimizer Pro uses 400+ Google algorithms to give you the best page optimization possible.
Page Optimizer Pro supports over 60 languages.
Page Optimizer Pro plugin can work with MS Word, Google Docs, WordPress Editor and other text tools you might use.
Cons Of Page Optimizer Pro
It does come with some limitations. For example, Page Optimizer Pro can only be used for one website at a time. You can't use it for multiple websites or domains.
The cons of this tool are its limitations when compared to other SEO tools like Ahrefs or SEMrush – which means that you won't get all the insights from those tools when using Page Optimizer Pro.
The major con of Page Optimizer Pro is that it is not an automated tool. It requires human input to work and this can be time-consuming for the user.
Page Optimizer Pro does not have a keyword research tool to find keyword opportunities.
Pricing Plans Of Surfer SEO VS Page Optimizer Pro
Here we have examined the different pricing plans of Page Optimizer Pro & Surfer SEO.
Page Optimizer Pro Pricing
Page Optimizer Pro features three single-user plans and three agency plans. Read on to find out the differences between all of them: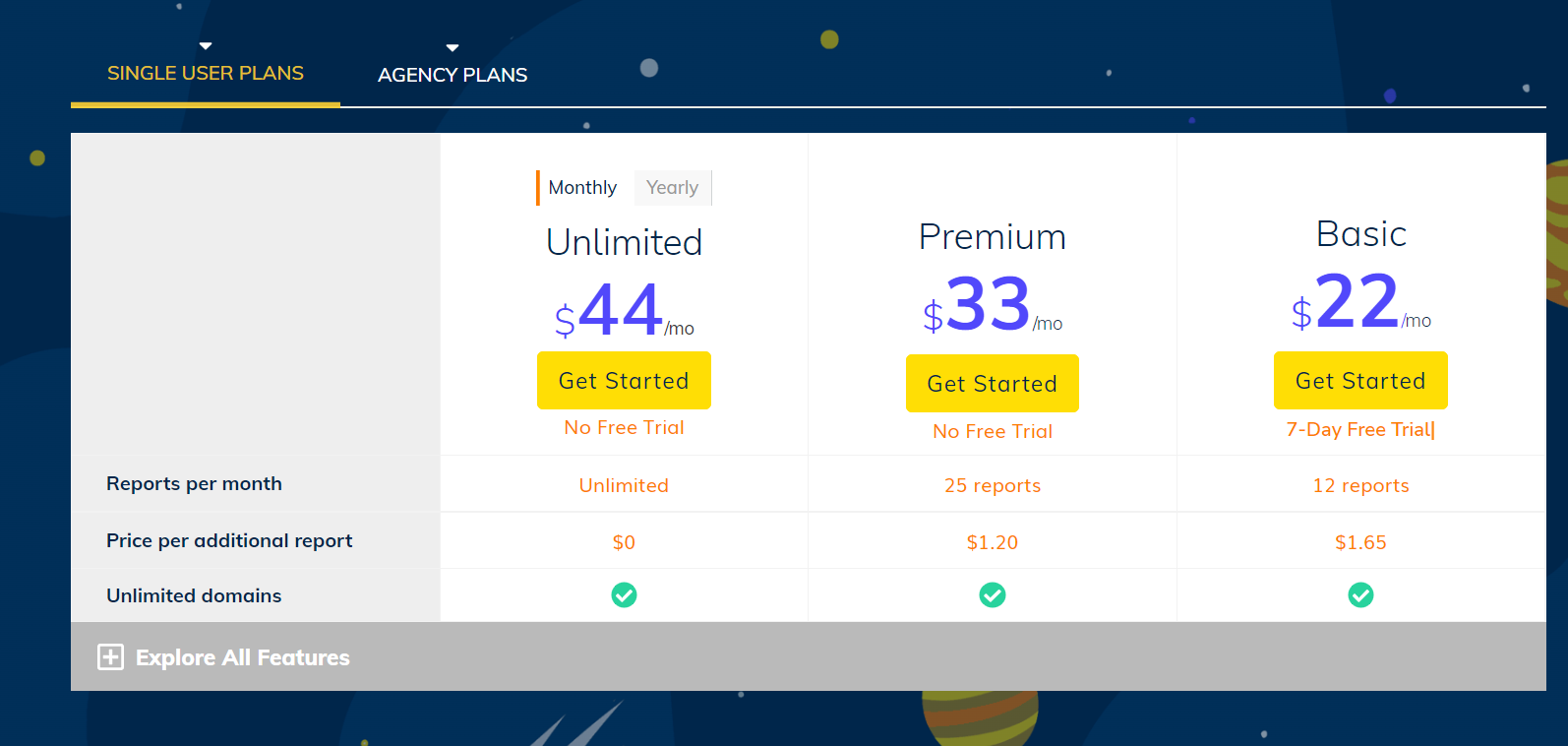 Basic Plan
The Basic Plan costs $22 per month, and allows up to 12 reports monthly. For subsequent reports in that month, a rate of $1.65 will apply.
Premium Plan
If you go with the $33/month plan, then you can generate up to 25 reports within a month. For every additional report, it will cost $1.20.
Unlimited Plan
If you buy the unlimited plan, it will cost $44/month or $429/year. This plan offers access to an infinite number of reports.
Agency Plan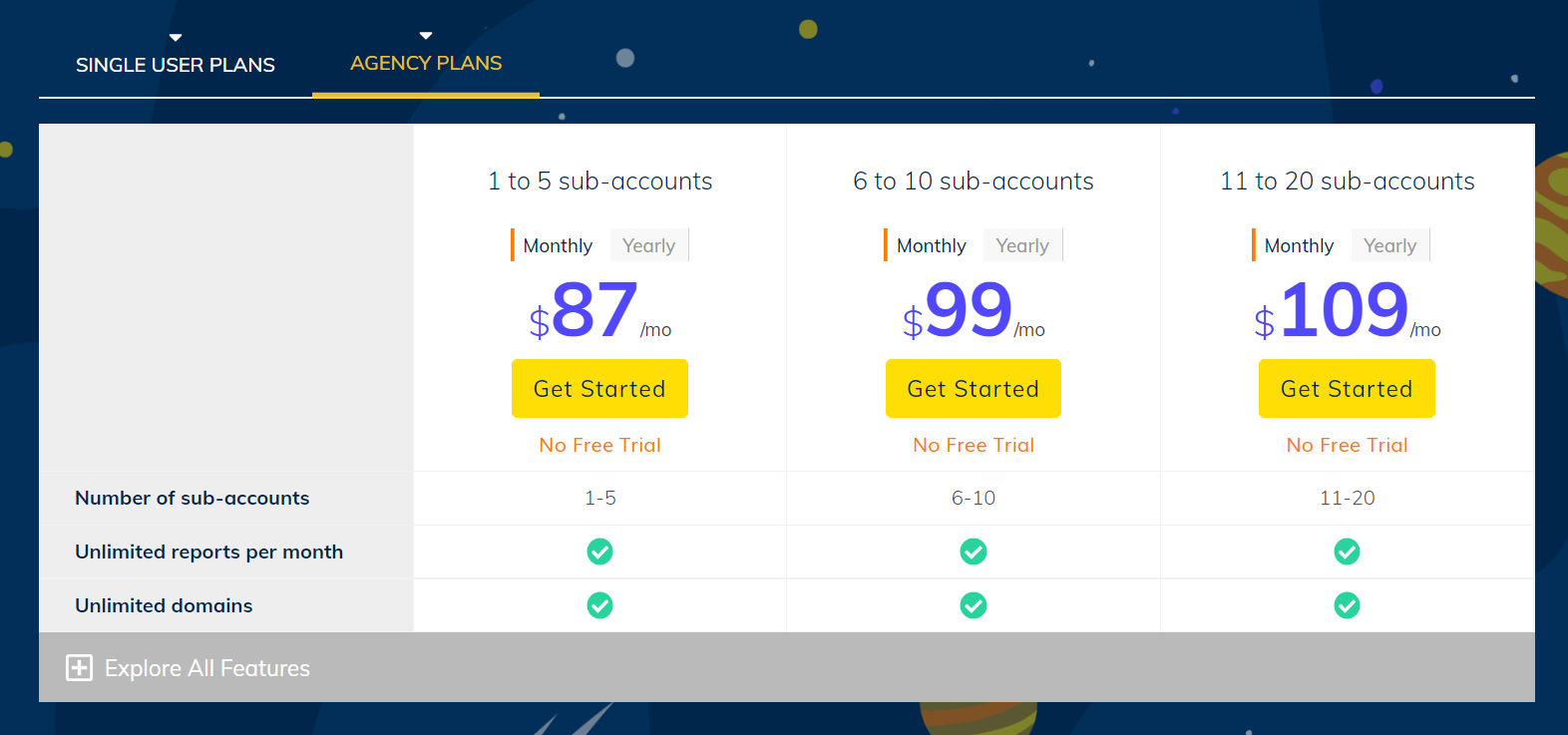 You can buy agency plans with different premiums depending on how many users you need. Our plans have a range of low-end, mid-range and high end options to suit your needs.
You'll need to pay $87/month or $859/annually for 5 users.
For 10 users you will have to pay $99/month or $979/annually.
If you want to buy for 20 users, you will have to pay $109/month or $1089/year.
Surfer SEO Pricing
If you're looking for help with your website, you'll find variety in the different pricing plans that Surfer SEO offers. The three pricing plans are as follows: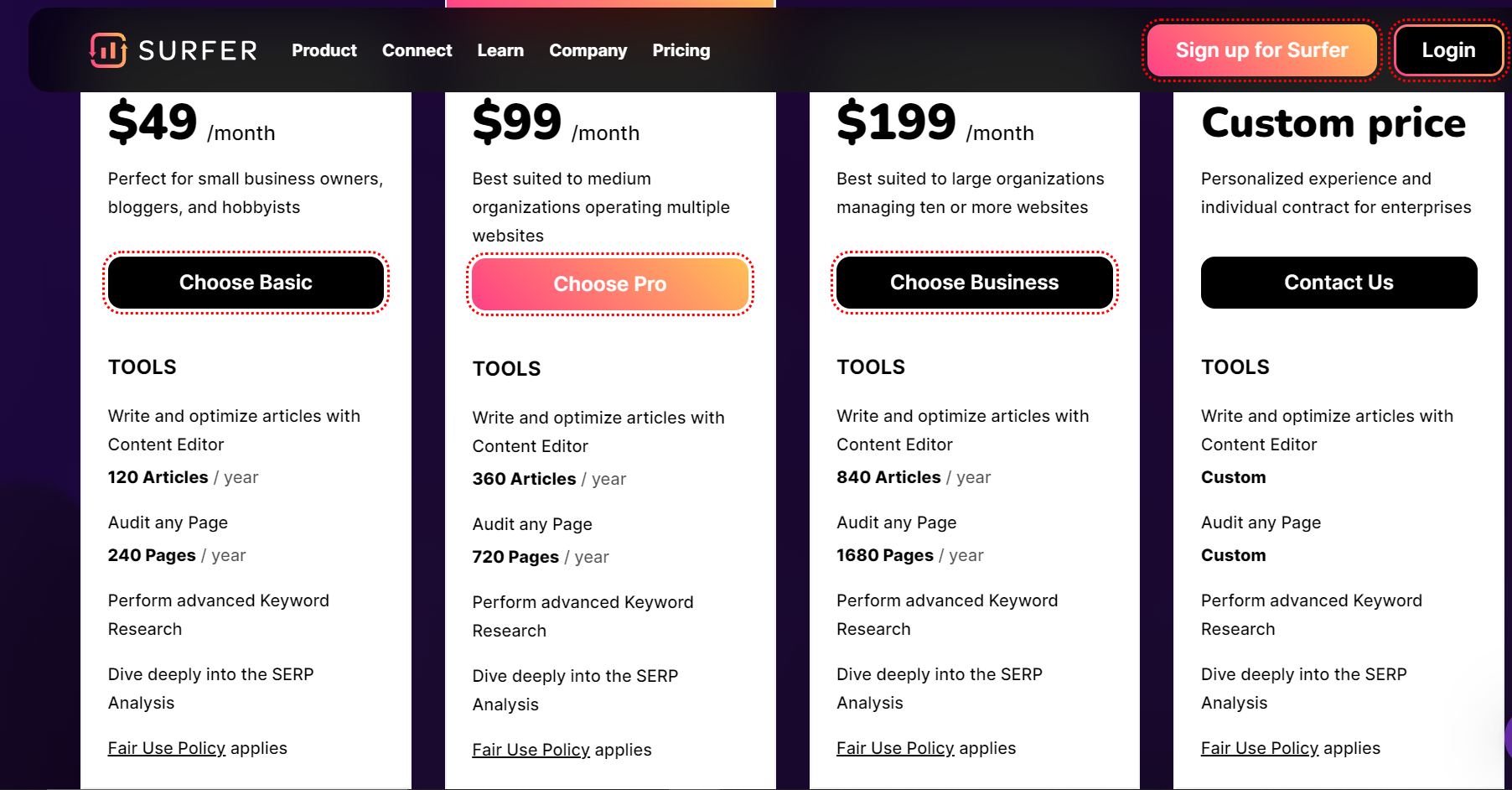 Basic Plan
If you sign up for the basic plan, you'll pay $59 per month or $588 annually. With this plan, you can do things like optimize or create 10 articles per month and audit 20 pages per month.
Pro Plan
If you subscribe to the Pro plan, it'll cost you $119 per month or $1188/year and will allow up to 30 articles and 60 pages of content with an audit.
Business Plan
The Business plan starts at $239 per month or $2388 annually and is great for optimizing or writing up to 70 articles per month and performing 140 business audits per month.
Conclusion
So this is our unbiased comparison of Surfer SEO vs Page Optimizer Pro. From our research, it doesn't seem that there are huge differences between these two on page optimization tools and what you choose will largely depend on your preferences.
The conclusion is that both tools have their pros and cons. Surfer SEO is a more versatile content optimization tool with the ability to analyse your site and give you insights on what you need to improve.
Page optimizer pro, on the other hand, provides more in depth analysis of your pages and can give you suggestions on how to improve them.
There is no denying that Surfer SEO (unlike Page Optimizer Pro) is a better tool. The decision should be clear in this case. But if you're looking for a budget-friendly option to help optimize your site with an advanced on-page optimization tool, then Page Optimizer Pro is the best choice.
To help you make a decision, we've created this comparison to show the pros and cons of both products.